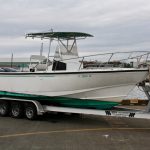 THE YAMAHA OUTBOARD ENGINES PICTURED ARE NOT FUNCTIONING
A 1996 Outrage 24' center console model with the famed "Unibond" hull construction by Boston Whaler. Hull construction is two fiberglass hulls with hardening foam injected between for maximum strength and flotation. Whaler boats are known to be strong, safe in rough water and advertised as unsinkable.
2006 'Diamond Saltwater Series' triple-axle aluminum I-Beam trailer with surge disc brakes on all wheels. 9,900 GVW with ST205 75D14 tires in very good condition, plus new spare on trailer tongue. Overall length 30'.
SPECIFICATIONS:
LOA: 24' , beam 8'6", dry weight approx. 5,000 lbs.
Centerline cockpit aluminum fuel tank
Twin Yamaha 'Saltwater Series' 200hp outboards 1996 model – non operational
Trim tabs
Two Group 24 batteries, new in April 2018
Ritchie 3" helm compass
Helm gauges for temp, fuel, alt., tach, speed, depth sounder, etc.
Stowage in aft cockpit sole for misc. gear and catch
Port and Stbd. 'catch lockers' in aft cockpit deck
Live well in helm bench
Removable full width bench for aft cockpit (not pictured, new white upholstery)
New full cushion set for foredeck area
10lb plow anchor 150' line rode with 10' chain head
VHF radio and antennae
Sony CD/am-fm
Two bilge pumps
Portable marine toilet in helm console
Recently new gray translucent helm windscreen
Newer gray canvas helm enclosure for inclement weather and boat storage
Misc. spares, lubes, filters, keys and locks, rod holders, boat hook, gaff hook, etc.
Valid and current Washington titles and 2018 registrations for boat and trailer.
Owner's manual and Yamaha V6 200 shop manual
We washed the boat and took these photos Sunday, July 1st.
———————- PHOTOS ———————-
—————– MECHANICAL DETAILS —————-
We are a nonprofit organization in Seattle in our twenty-second year accepting only boats and yachts for donation. We spend all of our time and often significant expense on necessary repairs, bringing those boats to the best possible condition for resale. We distribute the sale proceeds to sailing and maritime programs for kids locally.
When we received this Boston Whaler last month we were prepared to do a complete routine engine service as well as any other deferred maintenance she needed. Our mechanics started that process and then we took the boat to a local marine engine service shop to got their professional opinion as well. The lower unit seals had failed and the boat had been stored improperly on the hard. The lower unit shaft and internal bearings are corroded. Though they will turn, we did not attempt to remove the gears and prop shafts. The stbd. engine does not turn over and is likely seized, based on corrosion on the spark plugs. The port engine turns over but has compression of only 15-30 lbs.
In other words, NEITHER ENGINE IS FUNCTIONING PROPERLY and we want to be absolutely clear about that. Now, since most all things can be repaired and/or rebuilt perhaps that is something you would like to do with these Saltwater Series 200 V-6 Yamaha — they have a very good reputation for being strong and reliable propulsion. If you are familiar with outboards you know there are a number of other solutions – up to a remanufactured head – and numerous factory kits available, too. These engines do come with the boat !!
We're just not going to do that type of repair in our shop, nor pay a pro shop to do it. We've got quite a few other projects underway and do not want to start another right now. The idea of replacing the outboards is one we also considered. For us, the difficulty in that decision is that no matter what we might choose for replacements, a new buyer would say "great, but why didn't you use the California Evinrude 2-stroke, or, why not the New Honda 4's…??".
We know owners are loyal to outboard brands and YOU need to be able to choose your favorite !
SO — we're pricing the boat and trailer at a fabulous discount (check Yachtworld listings for some current comps on 'restored' Whaler Outrage 24'). We're looking for the right person who wants to take on the project themselves, and perhaps already has access to a pair of fine outboards to mount. This boat also came from the factory with a single 250 hp option. That set-up along with a trolling motor might actually be economical and best for the kind of fishing we do in the Northwest … plus less expensive to get her out on the water this year.
Call David to set a time to inspect; 206.225.3360. We're around all this week, on the Fourth, and over the weekend. The boat is in dry storage near the Ballard Bridge.
PLEASE – NO texts, just call me…thanks !