Nearly thirty years ago esteemed naval architect, Tom Fexas, was central to the development of the 'picnic launch' style of yacht design.  A unique blend of the stylish elements borrowed from the famed New England Lobster Boat traditions with modern technology, including diesel power and jet drive propulsion, with simple, subtle and classy interior touches.
The former owners worked closely with Fexas to create this exceptional custom design, a yacht he called an "Express." Her hull was laid up by hand at the shop which grew to become Back Cove Yachts (under the Sabre Yachts name). The build was fully completed by Malcolm Pettegrow Yachts, acclaimed in their own right for a lifetime of exceptional quality custom yacht construction at their shops of Southwest Harbor, Maine. She has twin Cummins 6B-TA diesels with fewer than 1,500 hours.  Her Northern Lights 5kW generator provides ample power while cruising, and she is moved along smoothly by twin Hamilton Jet drive propulsion. 
When we ran the boat from Bellingham to Seattle we reached 30 kts skimming along, and she cruises quite comfortably at close to 20 kts.  With both traditional wheel steering and a 'joy stick' controller at the helm, she is simple to handle in close quarters. 
We've spent the past spring and summer on the myriad details needed to bring her to her very best condition.  So, if you fancy yourself a unique kind of yachtsman, you need to give us a call on this one … quickly.  You'll be impressed!
David: 206.225.3360
_______________________________________________________________________________
Specifications:
Dimensions and Details:
LOA: 41' 3"
LWL: 30'
LOD: 40'
Beam: 12' 6"
Draft (maximum): 2' 7"
Dry Weight: 20,000 lbs, approx.
Clearance: 10'
Interior Headroom: 6' 6"
Fuel Tanks: 2 x 150 gal., hull integral, fiberglass
Water Tank: 50 gal., fiberglass
Waste Tank: 40 gal., fiberglass
Designer: Tom Fexas Yacht Design, Inc., Stuart, Florida
Builder: Malcolm Pettegrow Yachts, Southwest Harbor, Maine
Hull Layup: North End Composites (owned by Back Cove Yachts/Sabre Yachts), Rockland, Maine
___________________________________________________________________________________
Photo Gallery – click to enlarge and scroll
Mechanical
Twin Cummins 6B-TA M3, "Diamond Performance" inline six cylinder, 370 hp. each
Velvet Drive transmissions
Fewer than 1500 hours on main engines
Hamilton Jet model 273, jet drive propulsion
Electrical
30 amp. shore power with 50' cord to aft deck
125/250 to 30/30 amp "Y" cord pigtail
20 amp to 30 amp pigtail
Northern Lights/Lugger Generator 5 kW, 725 hours [installed new in 2006]
Main 110/12v panel at the companionway entry
Northern Lights control and gauges duplicated at main elec. panel
Two Lifeline Deep Cycle AGM Sealed batteries 4D – 1550 amp crank
12v generator start battery in engine compartment
Sentry "Cruisair" Battery Charger, 12v-3 bank, 40-amp, SM 1240 Series
Battery Isolator and CAPAC galvanic isolator system 
Helm Controls and Electronics
Helm control with Allpa 'Oceanhelm' hydraulic wheel steering
Helm control with Control Engineering 'Joy Stick' controller
Danforth 4" helm compass
Garmin GPSmap 5212 
Garmin radar dome
iCom model M-45 VHF 
Bennett Trim tabs
Four manual bilge pump switches
Tachometers, voltage, oil pressure, water temp., VDO engine gauges
Marinco signal horn
Lorans' windlass power supply switch
Engine exhaust temperature alarms
High water alarms for bilge compartments
Fireboy alarm system activation
Ultrasonic hull antifouling system
Accommodations
Main Cabin Salon
Full length port side settee with storage beneath
Large mirrored hanging locker
Three-drawer enclosed cabinet with ball bearing slides
Book racks and shelving
Clarion M-1205, a 12-disc CD changer
Alpha Marine M-5475 Stereo, 30 watt X 4
6" Pioneer TS marine speakers in cabin and at helm
Three 12v Caframo circulating fans
Six opening portlights 8" x 20" with curtains
Fireboy CO2 monitor
Two 110v GFCI plugs 
12v plug
12v brass reading lights
12v overhead lighting
Adjustable LED lighting in curtain valances
Bomar 24" aluminum deck hatch for ventilation
Caframo model 9206 electric portable heater
Vinyl headliner
Forward Cabin Area
Queen 'Island' Berth 88″ x 70″
Custom 'Handcraft Marine' innerspring Queen mattress
Storage beneath the berth 
Two 110v GFCI plugs
Two brass reading lights
Overhead 12v directional lighting 
Two 12v Caframo circulating fans
Bomar 12" deck hatch for ventilation
Mirrored cabinet door access to chain locker
Electrolux 'Ergorapido' cordless rechargeable upright vacuum
Fitted exterior canvas covers for all deck hatches
Galley
Atlantic Marine T4-C hot water heater, 9 gallon stainless steel
FloJet Quad II Freshwater pump, 3.3 gpm
14" stainless single galley sink with faucet and sprayer wand
Hand soap dispenser pump in countertop
Recessed 12v rope lighting in curtain valance with controller
Black and Decker "Classic' toaster oven
Sharp Carousel microwave
Nov-Kool R3800 refrigerator/freezer  110/12v
Three storage cabinets with shelving
Two GFCI outlets, one 12v plug
Bomar 16" deck hatch for ventilation
Hand towels and cleaning supplies
Head and Shower
12" stainless sink with Kohler faucet control
Soap dispenser pump in countertop
Large wall mirror with LED overhead lighting
Large under-sink storage cabinets
Two opening portlights with curtains
Separate enclosed shower with faucet wand, seat and opening portlight
Shower sump discharge overboard
Vacu-flush toilet with separate water supply and Flojet pump
TankWatch monitoring system
One 110v GFCI plug, one 12v plug
Bomar 16" deck hatch for ventilation
All interior cabinets have brass push button secure latches
Helm and Cockpit
Full zippered canvas enclosure for inclement weather
Locking Bi-fold companionway door with sliding hatch
Adjustable Captan's chair with footrest
Helm bench seating with storage beneath
Folding mahogany helm settee table
110v GFCI and 12v plugs
Eva-Kool 60 ice chest
Overhead hatch for ventilation
Vinyl headliner
New exterior carpeting for the helm area
Aft cockpit engine box cushions (removable)
Cockpit courtesy lights
Equipment Room
Two Integrated 150 gallon fuel tanks and fill hoses
Centerline fiberglass waste tank
Vacu-flush pump and pressure tank
Hot water heater, freshwater pump, lines and filter
Water tank for Vacu-flush with separate freshwater pump
Joystick controller module and hydraulic pump
Main engine and house batteries
Battery control panel and switching
Battery charger, isolator and shore power main breaker
Lofrans' windlass power breaker
Stored engine spares and filters (see inventory below)
Stored plumbing and loose spares
Compartment 12v fan and exhaust blower
Newly repainted tank tops and storage
Exterior Details
Foredeck and Aft Cockpit:
Lofrans' Model 1500 electric windlass w/foot control switches
Bruce galvanized 44 lb anchor in stainless bow stem fitting
50' of 3/8″ chain and 150' of 5/8" nylon line rode
Fortress FX-11 Danforth-style 'lunch hook' on aft deck
100′ of 3/4″ laid line rode for spare anchor
Engine cover box opens in two large sections
Cushion Set for engine compartment box seating
Pneumatic lifter and electric servo lifters
Latching transom gate
Large aft swim step with boarding ladder
Hanging storage for dock lines 
Fuel measurement rods for deck fill fittings
Boat pole, four fenders (light brown or black), mooring lines
Engine Compartment
Insulated engine compartment box with pneumatic lifters and brace
Full aft deck hatch raises with 12v driven risers
Sealed 12v illumination in engine compartment
Twin Cummins 6B-TA M3 "Diamond Performance" main engines
Dual Racor 1000 water separators for main engines
Hamilton Jet Drive pumps
Northern Lights 5 kW diesel generator
Dual Racor 500 water separator for genset
Interstate 12v deep cycle generator start battery
Cummins blocks freshly detailed and painted
Miscellaneous Mechanical Spares Onboard
Rule 555 bilge pump – 3,700 gph capacity
SeaLand macerator pump for vacu-flush system
SeaLand maintenance kits; seals, gaskets, etc.
Panish brand dual control throttle/shift assembly lever
Freshwater system spares; PEX fittings and tube cutters
So-Pac windlass controller module
Assorted; wire hangers and other shackles, thimbles, pump screens, drain plugs, etc.
Assorted electrical; halogen bulbs, fuses, terminals, etc.
Generator Spares
Lugger maintenance manual
Lugger marine maintenance kit; gaskets, seals, belts, injector sealer, in hard case
Exhaust elbow, belts, raw water pump
Engine Spares
Engine maintenance and repair manuals
Sherwood raw water pump (complete), assorted seals and gaskets
Sherwood 25120 raw water pump shaft assembly
Oil and fuel filters, Racor filters, oil filter wrench, funnels
Cummins engine gaskets, seals, Permotex sealer, O-rings, etc.
Hydraulic hoses, seals, engine pulley belts
12 qts, Rotella 15-30 engine oil, coolant, steering pump fluid, diapers, hand pump
Hamilton Spares
NEW Hamilton Jet, model 273, complete and crated in our shop
Hamilton install and operations manuals
Jet drive seal kits
Tools
Husky box wrench set; 10 – 19 MM
Craftsman box wrench set; 12-15, 16-19 MM
Craftsman 'Dog Bone' dual head metric ratchet wrench
Snap-On flare tube wrench set; 12 – 21 MM and 7/16"
Silicone sealers, drivers, misc. small tools
Grease gun with Zerk fitting
Safety Gear
Main cabin: Rule 3700 bilge pump with float switch
Equipment Room: NEW Rule 3500 bilge pump with float switch
Engine Compartment: NEW Rule 3700 bilge pump and float switch
Center Engine Comp. Bilge: NEW Whale 'Gusher' 220 with manual switch at helm
High water alarm floats in each bilge compartment
Threaded bronze thru hulls and sea cocks below waterline
Nylon sink drain thru hulls above the waterline
Fireboy CG2-370 Halon engine compartment fire suppression
Xintex CMD carbon monoxide monitors
Three hand held fire extinguishers
Multiple marine First Aid kits and supplies
_______________________________________________________________________________
~ ~ Performance ~ ~
We ran the boat from Bellingham to Seattle (approx. 75 nm) late last fall.  She performed flawlessly.  The jet drive propulsion with joy stick controller provided exceptional maneuverability in close quarters.  The wheel steering is taut and comfortable coming up to speed.  We encountered 3-4' seas with strong SW winds for a duration in Possession Sound and her hull design proved quite stable and stout. 
During the recent mechanical inspection/survey in October with Hatton Marine Diesel technician aboard, we ran her out to Lake Washington for demonstrations. Here is the graph of RPM/speeds obtained (expressed in knots and MPH)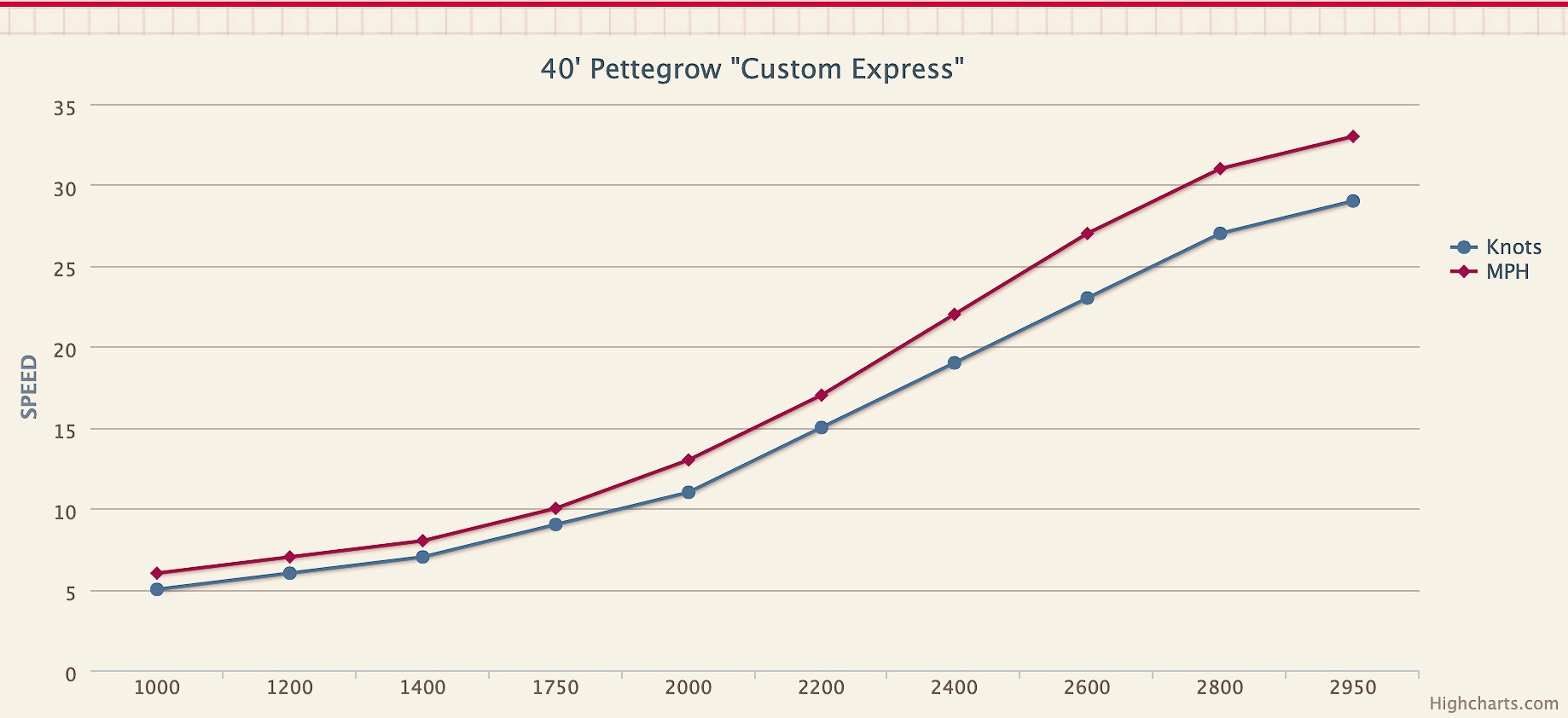 ______________________________________________________________________________
~ ~ Recent repair work ~ ~
Over the past summer months we have taken care of a number of small repairs on this exceptional boat. All of her electrical and plumbing systems have been carefully checked and brought to proper operation by replacing switches, bulbs, breakers, etc., including three bilge pumps and floats that were intermittent.
The pros from Hamilton Jet replaced bushings at the steering control arms to eliminate a small leak, and performed a general mechanical inspection for the drives. Her Cummins main engines were inspected by the crew from Hatton Marine the week of October 17th, with oil samples tested for mains, gearboxes and the genset. The survey included a performance run up to top speeds. Hatton Marine prepared a mechanical inspection report that will be made available to her next owners in the process of completing a sale. Their findings are favorable with no immediate concerns to address.
Additional specific attention was given to overall appearance and cosmetics; teak trim cleaned and sealed, topsides waxed and polished. New paint finish for the bow rail, along with a very thorough cleaning both inside and out. Engine compartment was well cleaned, detailed, and the main engines were repainted with correct Cummins beige.
While the boat was on the hard in Bellingham last fall the bottom was painted and zincs replaced. We had a hull survey completed as well. That report, along with the Hatton mechanical inspection report and details of the jet drive inspection will all be made available to her next owners in the process of completing a sale. No need for additional haul out expenses.
Some original hull blueprints by Tom Fexas, main wiring diagrams, fuel and freshwater plumbing system schematics, and manuals for all systems — along with proper Cummins and Hamilton operations and repair manuals — are all onboard and organized.  Correspondence between designers, owners, builders, along with historical ownership records are also present.
______________________________________________________________________________
~ ~ Historical Information ~ ~
Imagine what a thrill it must have been to take your ideas to legendary designer Tom Fexas, invest those hundreds of hours in discussions of creating the perfect custom personal yacht … and then to see her realized in a 'one-of-a-kind' design of such beauty as this 40' 'Express' picnic launch. Original USCG paperwork from the builder shows transference of ownership at more than $600,000 in 2000.
The family for whom she was built were very knowledgeable yachtsmen.  In fact, they owned and operated one of the largest marinas on the east coast of Florida.  The boat would spend some summers in Maine and was kept in heated indoor storage during the winters up North.  Many winters she would be down south in Florida kept under cover on a HydroHoist, having been carefully prepared for trucking each way.  
The family sold the marina a few years ago and the boat found its way to Northwest Washington three years ago, with the son of the original owner.  A combination of recent pandemic travel restraints, minor health issues and a desire to support our nonprofit programs led the owner's decision to make this donation to Pacific Marine.  
We have been communicating with Pettegrow Yachts and with the curator for Tom Fexas' design studio in anticipation of receiving additional historical information to forward to new owners. She is currently state titled in Washington. We have USCG Builder Certificates from North End Composite and Pettegrow Yachts. These would be a necessary part of converting to USCG Documentation, if so desired.
_______________________________________________________________________________
~ ~ About Our Pacific Marine Foundation ~ ~
We are selective about the vessels we accept into our program and we pursue a very rigorous process before they are listed for sale.  This begins when we first meet with our donors to discuss the condition and recent upkeep of their boat.  Once accepted, each new arrival undergoes a thorough examination, similar to what a marine surveyor will do.  This allows us to prioritize our attention to any deferred maintenance or repairs that may be needed. 
Over the years we have performed just about every kind of marine repair, from electrical and plumbing issues to all types of appearance enhancements and even rebuilding engines.  If something is not working right we fix it, simple as that.  We prove that her electrical, mechanical and plumbing systems are correct, safe and functioning properly.  By doing all of this we know our boats quite well from top to bottom and present them fairly and honestly to buyers. 
We encourage you to have our boats professionally surveyed as a part of your purchase process.  By the time we've finished and the boat is advertised, we're confident you will receive a strong report from your surveyor.  
Thank you for considering PMF boats in your search !
_______________________________________________________________________________